Sorry, Stephen King.
1.

Psycho (1960)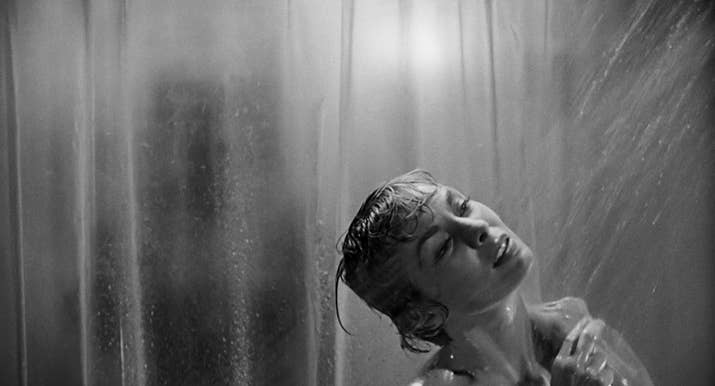 Directed by: Alfred Hitchcock
Written by: Joseph Stefano
Based on: Psycho (1959) by Robert Bloch
Why it's better: The film subverts audience expectations by starting with the story of Marion Crane (Janet Leigh) instead of Norman Bates (Anthony Perkins), making her death a surprise and upping the suspense that has made Psycho a classic. Plus, Norman is a more complex and ultimately sympathetic character in the film.
2.

Dr. Strangelove or: How I Learned to Stop Worrying and Love the Bomb (1964)
Directed by: Stanley Kubrick
Written by: Stanley Kubrick, Terry Southern, and Peter George
Based on: Red Alert (1958) by Peter George
Why it's better: Stanley Kubrick makes multiple appearances on this list, because his adaptations tended to be distinctive works of art. In this case, he took a straightforward thriller about nuclear war and turned it into a satire that left a much more lasting impression as social commentary.
3.

The Graduate (1967)
Directed by: Mike Nichols
Written by: Calder Willingham and Buck Henry
Based on: The Graduate (1963) by Charles Webb
Why it's better: While the film doesn't deviate too much from the novella it's based on, the casting of Dustin Hoffman as Benjamin Braddock and Anne Bancroft as his seducer Mrs. Robinson — along with the iconic Simon and Garfunkel score — have made it the more definitive version of the story.
4.

A Clockwork Orange (1971)
Directed by: Stanley Kubrick
Written by: Stanley Kubrick
Based on: A Clockwork Orange (1962) by Anthony Burgess
Why it's better: Again, Kubrick's unique aesthetic makes this version of the story more effective than the novel. He also wisely adapted the American edition of the book, which scrapped Burgess's ending of the U.K. version and saw Alex (Malcolm McDowell) find redemption and turn his life around. Kubrick's darker conclusion just makes more sense.
5.

The Godfather (1972)
Directed by: Francis Ford Coppola
Written by: Mario Puzo and Francis Ford Coppola
Based on: The Godfather (1969) by Mario Puzo
Why it's better: The Godfather is widely considered to be one of the greatest films of all time. Mario Puzo's pulpy novel is definitely fun, but Francis Ford Coppola elevated it to a breathtaking cinematic accomplishment. It's also a more streamlined story, with Puzo's history of Don Corleone (Marlon Brando) incorporated in The Godfather Part II.
6.

Jaws (1975)
Directed by: Steven Spielberg
Written by: Peter Benchley and Carl Gottlieb
Based on: Jaws (1974) by Peter Benchley
Why it's better: While the novel Jaws was a fairly standard thriller, the film held back on violence — a serendipitous consequence of a low budget and a malfunctioning mechanical shark. The non-shark characters were also fleshed out and rendered more likable, helping the audience root for them.
7.

One Flew Over the Cuckoo's Nest (1975)
Directed by: Miloš Forman
Written by: Lawrence Hauben and Bo Goldman
Based on: One Flew Over the Cuckoo's Nest (1962) by Ken Kesey
Why it's better: As portrayed by Jack Nicholson, McMurphy is an enduring cinematic antihero. The film shifted perspective from Chief (Will Sampson), who narrates the novel, to McMurphy, thereby making the central conflict between McMurphy and Nurse Ratched (Louise Fletcher) all the more dynamic.
8.

The Shining (1980)
Directed by: Stanley Kubrick
Written by: Stanley Kubrick and Diane Johnson
Based on: The Shining (1977) by Stephen King
Why it's better: Stephen King was famously unhappy with Kubrick's adaptation of his novel, largely for the way it diminishes the supernatural elements. But while Jack Torrance (Jack Nicholson) isn't possessed in the movie, he's far more frightening than he was in the book, because the horror is more grounded and familiar.
Also, has anyone been curious about this scene?? I know what their doing, but what's the significance? Seems random.
9.

Blade Runner (1982)
Directed by: Ridley Scott
Written by: Hampton Fancher and David Peoples
Based on: Do Androids Dream of Electric Sheep? (1968) by Philip K. Dick
Why it's better: Blade Runner is a loose adaptation of the Philip K. Dick novel, which is a sci-fi classic in its own right. But the movie works better as a dark vision of humanity's future, and the ambiguity over whether or not Deckard (Harrison Ford) is a replicant was a smart addition to the film.
10.

Stand By Me (1986)
Directed by: Rob Reiner
Written by: Bruce A. Evans and Raynold Gideon
Based on: The Body (1982) by Stephen King
Why it's better: Another Stephen King adaptation, Stand By Me isn't vastly different from The Body, a novella originally included in the King collection Different Seasons. But director Rob Reiner better captured the bittersweet childhood nostalgia and dark humor of the story, making the movie a beloved classic.